Baa Ram Ewe
There has been a degree of excitement genereated by knitters in Leeds this week as we've gained a new wool shop -
Baa Ram Ewe
. Rosie and I went over yesterday to have a browse and had a lovely time. We had a lovely welcome from the owner Verity and she was very tolerant of Rosie's desire to fondle all the wool that was at her eye level.
After much contemplation Rosie and I decided on a skein of Noro Kureyon Sock yarn. As you can see Rosie is very taken with it!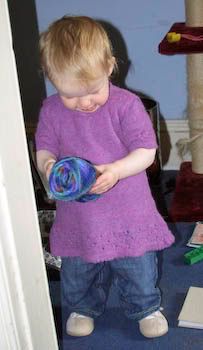 I've also managed to finish my latest pair of socks, knit in Schoeller+Stahl Fortissima Colori Socka Color using a generic top down pattern.