A Spot of Spring
Spring has definitely sprung round here and to celebrate I stitched The Drawn Threads Spot of Spring.
Worked on some miscellaneous 36 count linen from my stash and the recommended DMC threads. I still need to attach the charm which I will do when I get round to the finishing. I'll probably wait until I've stitched all of the other Spots (hopefully this year!) before I decide on the finishing.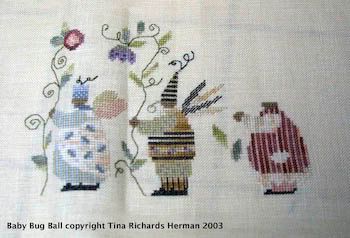 I've also been working on Shepherds Bush's Baby Bug Ball for Rosie. I was hoping to get it finished for her birthday but life got in the way. Still hopefully shouldn't be too long now before it's done.