Busy, busy, busy
Sorry about the gap between updates, I get a fair bit of time browsing when I'm breast feeding Rosalin but I don't find it easy to do more than type short comments one handed :) and I try not to spend too long on the computer when she's napping.
The weekend before last I took Rosalin to her first stitching get-together. A group of us had a weekend retreat at Dove Farm last year and had such a good time that it was decided to make it an annual event. The retreat is officially child-free but an exception is made for small babies :) I had originally planned just to go for the day but someone else had to drop out so I was able to make it an overnight trip.
Rosalin had a blast being cuddled by everyone and I took the opportunity to get some serious stitching in :)
Here she is with Joy taking a close interest in Paula's Happy Haunting.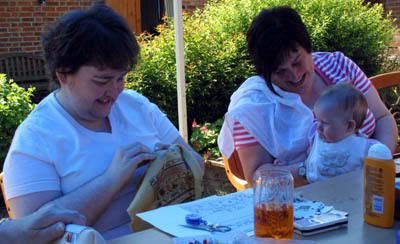 After the get together we had a busy week as my youngest sister is over in the UK for a visit from NZ and Rosalin really enjoyed her time with her Auntie Debbie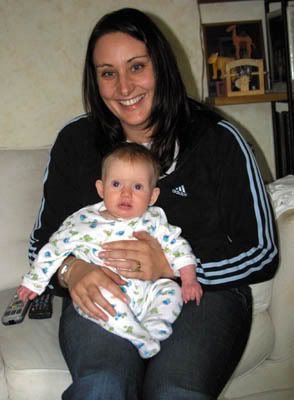 and her Uncle Marcus :)