Thailand part 1
I bet you all thought I'd forgotten LOL but I've been waiting for DH to have time to process the photo's. He's got through the first part of the holiday so I can share them with you now :)
After an enjoyable days stitching with CA Wells on the Sunday, we set off for Thailand, the journey went pretty much to plan the only thing we hadn't realised was that it was a two and a half hour drive (including two ferry crossings) to Ko Lanta and our resort. We finally got there approximately 30 hours after leaving our hotel in London, so after a bite and a shower we both slept for most of the rest of the day.
The resort we were staying at was called the
Relax Bay
which definitely lived up to it's name, most days quickly fell into the same pattern, after breakfast we would head down to the beach bar where there was a covered seating area which meant I could sit out of the direct sun (I don't do strong sun :\) but still be on the beach and get the breeze off the sea.There I would stitch and read and DH would play with his camera and read till lunchtime, after lunch would be more of the same mixed with some socialising with family and friends around the wedding at some of the other resorts.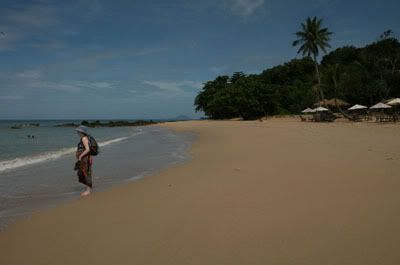 The beach at Relax Bay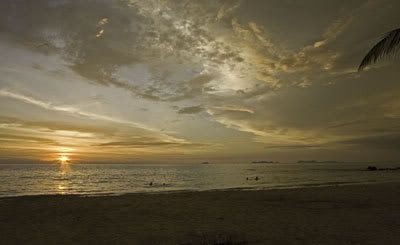 You can see more photos from our time there on DH's
website
The big event was on the Saturday and apart from my sister having hurt her foot earlier in the day which meant she had to go barefoot, went off without a hitch.The wedding itself was on the beach then we retired to beside the pool for drinks and the photo's (my DH was the official photographer). Everything was lovely and the setting was gorgeous.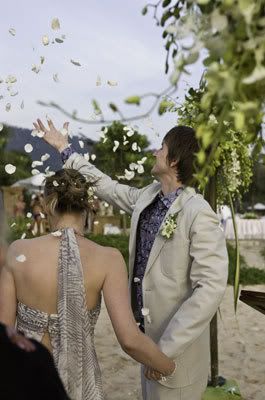 The bride and groom are showered in petals after the ceremony
Our family group - from the left DH, Marcus (BIL) Debbie (youngest DSis), Helen (Bride), Jono(Groom), Me, Mum and Dad
The drinks reception was held by the pool as the sun went down
The day was also one of the major Thai festivals
Loy Krathong
, which celebrates the end of the rainy season so we all had to release krathongs into a nearby water course.They are supposed to carry away anger and grudges down the river but I'm not sure it has the same effect when released into a swimming pool!
The second half of our holiday when we went up to Chaing Mai will follow when the photo's are ready :)