As usual I took way more stitching on holiday than I was ever going to get done but I always fear being left with none to do LOL
I took Maria Spence with me as it's the most portable of my large wips. I was working on the large black floral motif last time I had this out, so as you can see I managed to get a fair bit done :) I'm heading for the midpoint on the stitching on this one. Sadly it's going to have to go back into the wips bag for the time being as I want to focus on finishing the afghan for the baby first.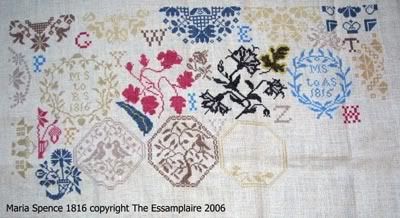 When I needed a short break from Maria I worked on the Forget Me Knot in Stitches ornie from the 1999 JCS ornie edition that I started back in Feb/March. I think if I had really thought about how long the over-one sections were going to take I might have decided against stitching this one. As it was I had to really tap into my stitching zen to get through it all. I got all the over one finished while we were away and I finished it up this week.