Sorry I've not been round much recently
Sorry for the lack of updates recently work's been very busy and just collapsing on the sofa when I get home has been a lot more appealing than spending more time in front of the computer. I even haven't got a huge amount of stitching in :(
I've been away for the last couple of weekends, the weekend before last it was a public holiday here so DH and I went down to London for a short break. The highlight of the weekend was a trip out to
Hampton Court
on the the Sunday as neither of us had been before.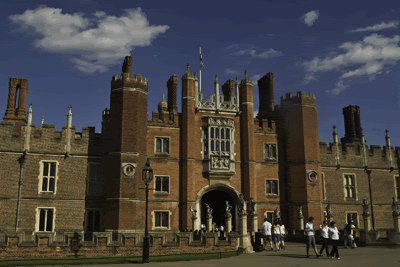 The Gatehouse
View of the Georgian palace from the Privy garden.
We took an extended wander around the sections of the Palace that where open to the public and the gardens. We came across this mother and her kids having a little rest :)
Last weekend I went off to the edge of Ikley Moor to spend the weekend with some fellow Chalet School enthusiasts from the Chaletian Bulletin Board. There was much chatting, eating, knitting and a great time was had by all :) Both weekends I took The Album with me to work on so I will try and take an up to date progress photo for you.