Dragons and Stash
I picked up Dragon Ride from the framers on Saturday and I have to say I'm thrilled with how it's turned out. They had a molding in that was the exact colours of the border and once I saw it there was no other options.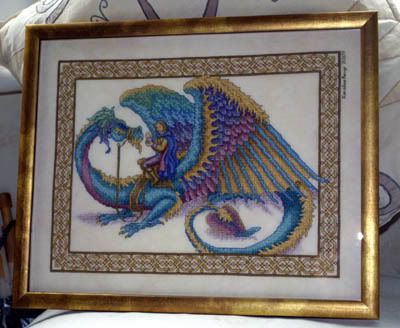 After I'd pick up my Dragon I went onto Bakewell where I was meeting Kate at Wye Needlecraft. We both managed to buy some bits off our wishlists, I got Jeanette Douglas Designs We Stitch, we share, we create, Just Nan's Jasmine Mix and Drawn Threads Sampler Necessaire. After the shopping we went for a bite to eat and a good natter and then had a wander round Bakewell until we were sent home by the rain.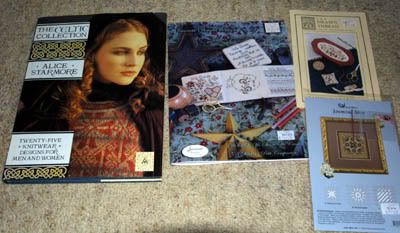 I found the Starmore book in the photo in my local Oxfam today when I popped in for a quick browse :)
Finally here is last weeks progress on the Afghan, I got the Moon stitched and have made a start on the next dragon.