Redwork Exchange Part 2
I had a wonderful mail day yesterday :) First up is my redwork exchange from Veronica, she stitched me this exquisite Quaker pinball.
Isn't it gorgeous, it goes beautifully with my Swan Lake mending bag. Also in the parcel was some red fabric, felt and silk ribbon as well as some mints, this photo also shows the other side of the pinball. Thank you very much Veronica :)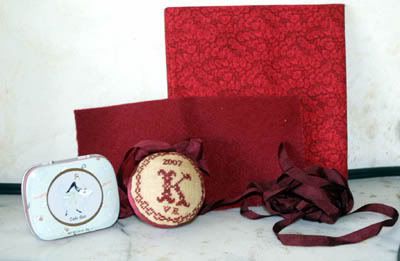 Also in the mail yesterday was an unexpected parcel from my partner in the UK Sampler guild/North West Sampler guild birthday buddies exchange, Becky. She sent me some favors that were created for her guild, the shells are a little needle book and a starfish beeswax. There was also a special charm for the birthday exchange but that was too small to photograph. Aren't they cute. Thanks Becky.