It's been a busy weekend so I haven't had time until now to post my progress on Dragon Ride. As you can see there's a fair bit more of the rider done now. Hopefully next time I pick him up I'll get the over one finished. I'm taking a short break from him next week as I want to work on Maria Spence.
Part of why I've not had any time this weekend was that I went with my Mother-in-Law Betty to the Stitch and Craft Show at Olympia in London. We've been a couple of times in the past but didn't get there last year as I was away with work. We've always been singularly underwhelmed with the show and this year was no exception, we'd only decided to go because a couple of the classes in the afternoon sounded interesting. These where Elizabethan Blackwork with Leon Conrad and Goldwork with Jenny Adin.

The blackwork class was interesting and the examples of Leon's own work that he passed round where just stunning but what I really enjoyed was the goldwork where we were making small broaches. Here you can see my progress on both class kits.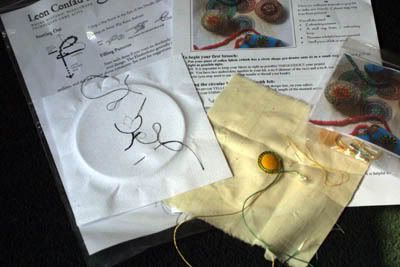 Neither Betty or I bought much stash, we both got some sock wool from Web of Wool, she bought one of the new Michael Powell's and I bought a goldwork/canvaswork kit from Goldwork by Carolyn and some scissors.