Dragon Ride Update
Time to catch up :) The end of last week got very busy as I went to see the new Northern Ballet Theatre production of Sleeping Beauty on Thursday evening. It was interesting, the Artistic Director decided to make it into a space opera, it was very well danced and the design was gorgeous, but I'm not sure that it really worked. On Friday I had to go down to London for a meeting at didn't get home till midnight, yuck.
On the stitching front I got back to Dragon Ride last week and my rider now had the best part of a cloak. I shall be very happy when I get the over one done!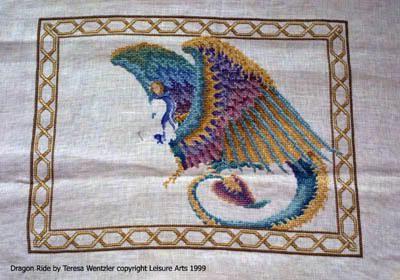 On Saturday I went over to Chorley for a Sampler Guild gtg at Patchworks, it was good to catch up with the Lancashire members again as well as Linda and her Mum who came up for the day. And of course there was the opportunity for a little stash enhancement LOL!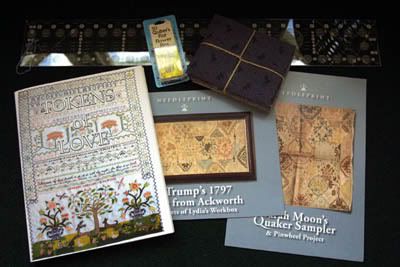 From Patchworks I got a quilters ruler, pins and a selection of purple fat quarters. From the goodies that Linda brought with her I picked up copy's of Needleprints Ann Trump and Sarah Moon and a copy of Tokens of Love.