Sorry it's been so long
Sorry about the break in blogging it's been a very busy week and so this entry has taken several days to write.
We had a wonderful relaxing time last weekend in London :) DH found that he had a lot more holiday left to take than he thought so he took Friday and Monday off to have a good break, so we travelled down on Thursday night and came back Monday morning.

On Friday we went to visit HMS Belfast, a Second World War battle cruiser that is moored on the Thames near Tower Bridge. I suggested going as there was an exhibition on board, The Seamstress and the Sea that I wanted to see and the opportunity to go to a textile exhibition in a location that would interest DH was not to be missed LOL. I found the exhibition very interesting; it was based on the experiences of the artist's grandmother who had sewed sailor's collars for the Royal Navy. I found it especially interesting as she did this work as a homeworker and to see something that puts homework middle and centre is great to see (For those that don't know I've spent the last three years working on projects with homeworkers in the developing world)
Saturday was the class with CA Wells. The morning session was a 'finishing' session where you could bring previous years projects and move them on. This is what I was working on La Lapin for; I actually took the class back in 2003. I managed to get it finished in plenty of time
:)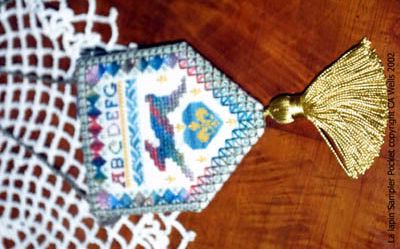 The afternoon session was a special piece that CA had designed to celebrate her 10th year of coming to London to teach with Hanging By A Thread, a three sided reticule inspired by the cones at Laduree. You can see pictures of it here. Because it was such a new project we didn't get the kit till the day so none of us got very far with it, so pictures of mine may be some time in coming (especially since I have two other large CA projects still waiting to be stitched). After the class we all went for a celebratory cream tea in Harrods then hit the Laduree shop for boxes of macaroons and sugared almonds.
On Sunday DH and I decided that it was about time we revisited the Tower of London as it had been around thirty years since either of us had been. After a stroll through the city as the Northern Line wasn't running south we got to the Tower just as one of the Yeoman Warders was beginning his tour. After a whistle-stop but highly entertaining tour of the tower highlights we went off to wander round. We spent quite a while wandering around the White Tower then after a quick brew we went to look at the Crown Jewels. They've been rehoused at some point they're now on display in the Waterloo barracks when we'd visited previously they were in the Martin Tower which couldn't cope with the volume of visitors (even in the early seventies). Now they've set out the barracks to handle the queues (not that there were any in November) with video screens showing excerpts from the coronation and there's a moving walkway either side of the main regalia which removes what used to be the main bottle neck. DH and I didn't spend much time in there as jewels don't really do much for either off us (I was much more interested in an embroidered Cope that was on display). After that we just had a wander round the grounds then as the afternoon was drawing in we walked back to our hotel.
DH took quite a few pictures on Sunday at the tower, he did plan to take some on the
Belfast
as well until he realised he'd forgotten to pack the card for his camera, whoops! I'll post the photo's as soon as he's finished tweaking them.