It's finished!
WooHoo I put the last bead in Silkwood Manor on Sunday night and I'm thrilled with how it's turned out.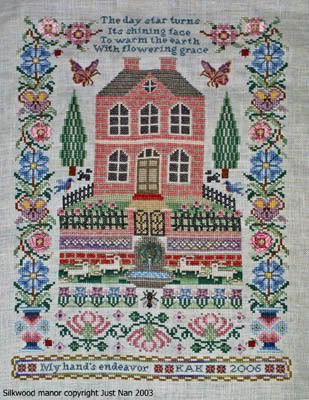 I indulged myself and bought the silk pack for this and I'm really glad I did because I think the different silks really added to the piece. It's stitched on some cream linen from my stash. The stats - Started 2nd May 2005, finished 12th Nov 2006, approx stitching time - 118 hours.
We actually managed to get out this weekend. We were going up to Helmsley for a fascinating talk by explorer Benedict Allen, so we stopped at Fountains Abbey for a leg stretch on the way. The weather was distinctly on the grebby side but when we got to the abbey there was a break in the rain so we had a leisurely stroll up to the deer park. After a brew we had a somewhat more bracing walk back as the rain came back in with a vengeance! Of course DH took a load of photo's but he hasn't had time to process them yet, so here are a few from previous visits

edited to add I had problems adding the slide show to this post so I've had to do it as a separate one.