Silkwood Manor Progress
As Dave got back from his travels at the weekend I can start sharing my wip photo's with you again :) Yesterday it was Silkwood Manors turn for some attention. As you can see I've not got far to go now I'm onto the bottom section then it's just the beading to go.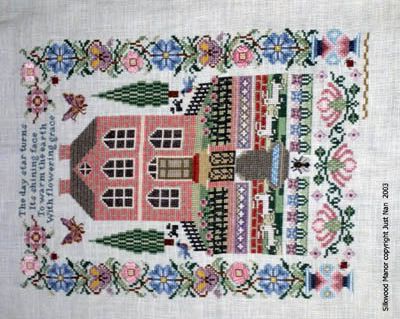 I can now show you what I received in the Needlework Smalls and Sampler House exchanges. First is a scissor pocket and needlebook by Paula, using a design by Merry Cox from the Shepherds Bush retreat. She included a dinky pair of scissors with a beautiful beaded fob.
And from Anzia I received this gorgeous Pin keep with motifs from the Drawn Thread.
Aren't they both gorgeous, thank you very much Paula and Anzia.