My Summers Stitching
Sorry about the gap between updates, I was meaning to blog all last week and never quite got round to it. I'm not sure why not, I seem to have a bad case of the autumn blah's which hasn't been helped by the fact that my DH is away on a business trip until Saturday. Oh and he's taken the camera with him so I don't even have the incentive of photographing my wips to get me to post!
Do you remember that over the summer I mentioned that I was working on a large gift project that I didn't want to go into too many details about (although there was mention of it in my goals posts)? Well it went to it's new home at the weekend so I can share it with you now.
It's my parents 40th Wedding Anniversary at the weekend so I decided that the event required a sampler. So I stitched them The Victoria Samplers Heirloom Anniversary Sampler. I think it went over quite well though I'm not sure that they quite knew what to make of it, but it did go straight on the wall in their front room so I guess that means it was a hit!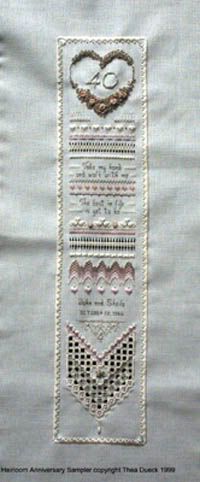 This was my first attempt at hardanger and ribbon embroidery on anything other than a practice piece so I'm thrilled at how it turned out. Here is a close up of the ribbon work.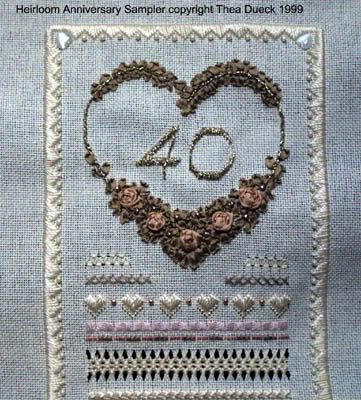 And the Hardanger