One More Dragon Down
I completed another Dragon on my afghan this week, Patience. I think this is my favorite one so far :)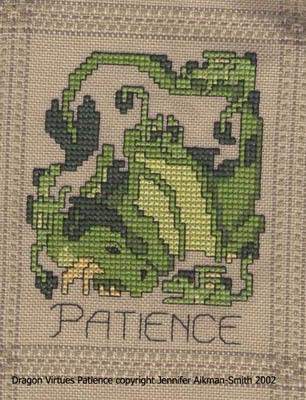 Only another 5 dragons to go on this (and 5 stars and 2 moons). Hopefully by this time next year I'll be finished.
I've also finished the stitching on the Scissor rest for the Lauren Sauer set, I really had to find my stitching zen on this one for the flag. When I say tent stitch over one on 35 count, you'll know why LOL.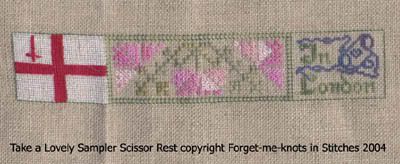 To answer the questions about the Teaching Band Sampler, Jenna and Nicola the fabric is 32 count cream linen, the scan bleached it out but as the thread colours where about right I left it as is. Terri there hasn't been anything that's new to me yet, I think that there may be further on down the sampler. It uses flower thread and Medici wool which I haven't used before. Now if I'd started it when I first got the sampler in 2000 then it would all have been new!