Happy Birthday to me
It was my birthday last Wednesday and as I had the place to myself I got to be super indulgent about how I spent the day. So I spent most of the day on the sofa stitching :) and watching a classic BBC drama, the adaptation of John Le Carre's Tinker, Tailor, solder, Spy with Alec Guinness as George Smiley.
Mainly I was working on the prestitching for my class at the weekend but I decided that I would indulge myself with a new start. So after a browse through my stash I pulled out the Drawn Thread's Teaching Band Sampler, which I had bought myself as a birthday present back in 2000 and kitted up soon after and decided that it fit the bill.
The big highlight of the day for me was this beautiful bouquet that my DH sent me as he wasn't able to be there.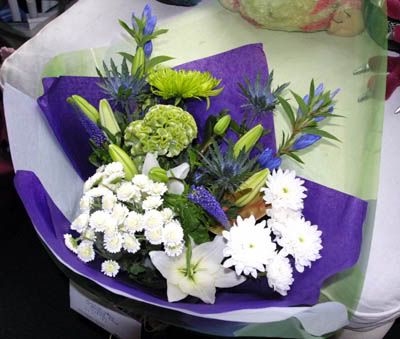 I had a fantastic time at the class in London with Lauren Sauer of Forget-me-knots in Stitches, this was my birthday present from DH. Lauren is a wonderful teacher, I hadn't managed to get very far with my prestitching but I was able to make a start on finishing the needlebook during the class. Debbie and Allie where there as well and so we spent a lot of the time having a good natter.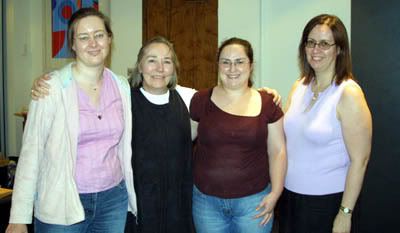 From left to right Me, Lauren, Allie and Debbie
Here's the needlebook with the stitching complete

The only other small I had got some work on was the scissor rest.