Another week with limited 'net time
But for a more enjoyable reason :) It's Wimbledon fortnight! I love watching tennis and as the BBC does blanket coverage I just take root on the sofa with my stitching and wallow in it. This year because we've got a PVR I'll be able to get to see so much more (Hmm Just how much tennis can I save to the hard disk LOL)
Last weekend I hosted a GTG as Belinda was in Yorkshire for a holiday. We had a wonderful time :) We showered Belinda with tea and chocolate and she responded with DMC, there was enough food to feed the 5000 and I made vats of tea. There was lots of chatting, stitching, knitting and enabling! Kate brought some of her hand-dyed threads and fabrics to tempt us all and I managed to enable several people with some of my framed pieces.
There weren't many camera's floating around, the only one I saw was Belinda's so here but here is the group shot, minus Scully of course and Angela.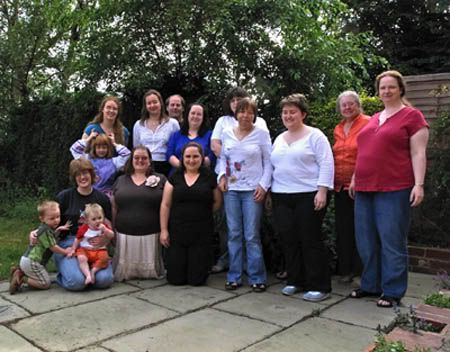 From left to right Amanda, DS and DD, Belinda and DD, Rach, Me, Russ, Lindsay, Allie, Gina, Michelle, Paula, Pat and Kate.I had a lovely time having everyone round and I hope that everyone else enjoyed themselves as well.
On the stitching front I didn't manage to get Summer Arbor finished. I had got all the dark green stitched and had started in on the light green when I realised that I had added an extra stitch in just before the halfway point so I had to do some major frogging :( May be this weekend....